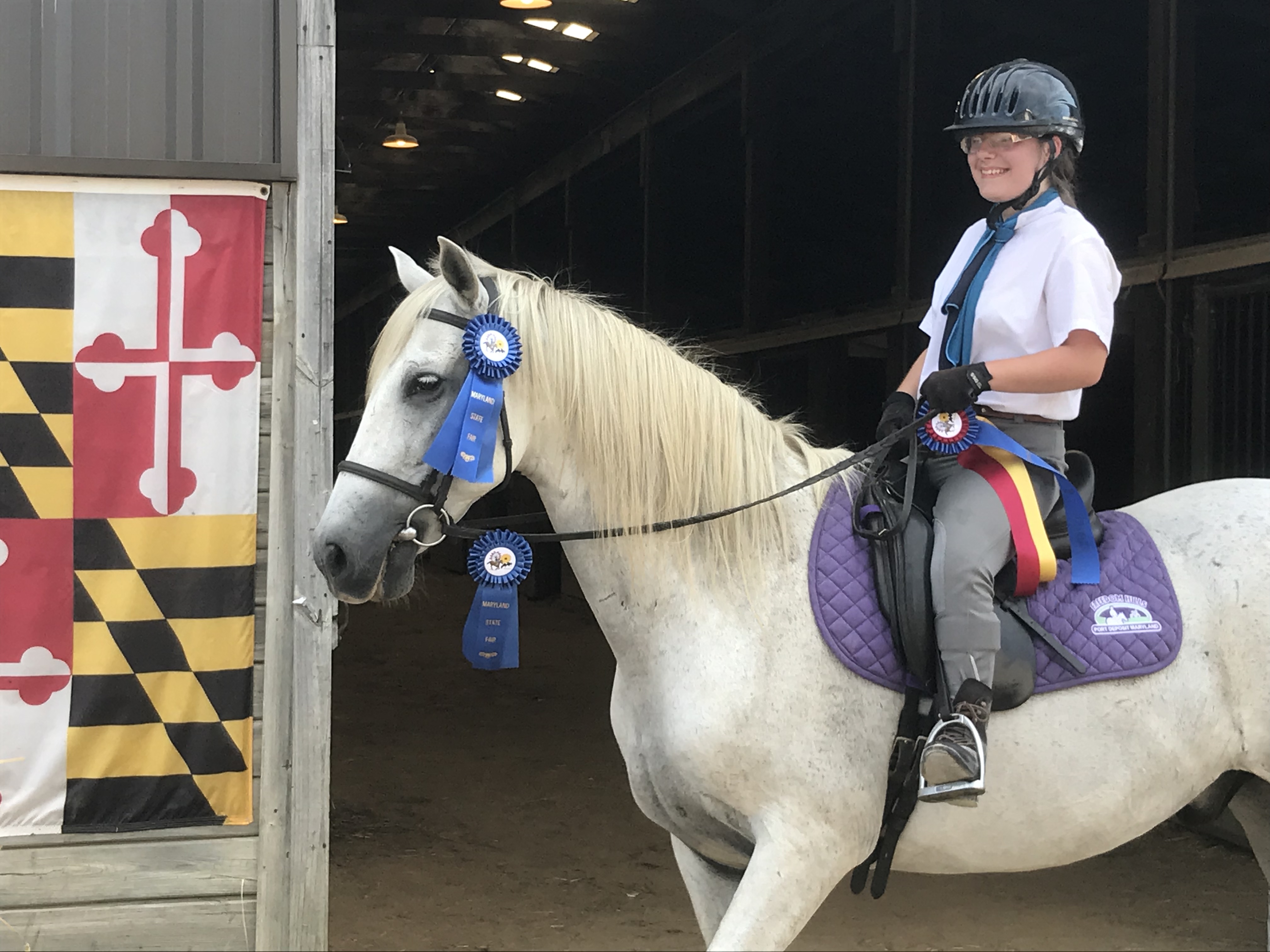 Maryland State Fair is UnFAIRgettable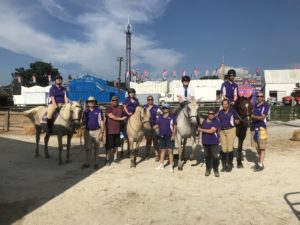 UnFAIRgettable was this year's theme for the Maryland State Fair and that is exactly how it was for many of the Freedom Hills Therapeutic Riding Students.
Friday, Freedom Hills TRP's Military Drill Team performed for the Horses Helping Maryland's Military Show Case. The drill team, comprised of Master Sgt Christopher Roberts, AirForce, Sgt. Cecelia Kress, AirForce, Sgt. Monika Karaczun, Army and Katherine Intano, civilian from Elkton, MD were amazing. Check out the www.freedomhills.org to see the performance. The team trotted through many intricate moves to wow the crowd who at the end rose to their feet clapping.
Individual competitions among the Military followed with Sgt Cecelia Kress from Abingdon, MD winning Champion in the Canter Division. Chris Roberts from North East, MD won first in Canter Equitation. Sgt Monika Karaczun from Perryville, MD won Champion in the Trot Division.
Military Veterans from McVets in Baltimore, MD: Rickie Green won 3rd in Trot Trail, 5th in Trot Equitation, Artis Ross won 4th in Trot Trail, 6th in Trot Equitation and Frankie Lopez won 1st in Trot Obstacle, 5th in Trot Equitation.
The following Monday Freedom Hills TRP was represented by four outstanding athletes at the Maryland State Fair's Therapeutic Riding Horse Show. It is always amazing to see our athletes leaving their walkers, crutches, wheelchairs and worries behind them to mount up on to their beautiful horses and ponies.
Jessica Mullen from Strasburg, PA won Champion in the Independent Trot Division. Bobby Evans from Oxford PA Reserve Champion in Trot with Support. Steven Maras from Parkton won 1st in equitation and 5th in trail, Alyssa Compton from Rising Sun, MD won 4th in Trail and 5th in equitation and fifth in trail both were in the Trot with Support Division. A big thank you to all of our wonderful volunteers.
Everyone came home with big smiles and all agree the Maryland State Fair was unFAIRgettable.
Freedom Hills TRP Upcoming Events
November 10 Freedom Cup "A Night at the Races" VFW Port Deposit
November 17 our Annual Horse Show classes for all riders from Hunter to Jumper classes, walk only to canter.
December 2, Christmas with the Ponies.
March 23, Annual Banquet and Auction, Wellwood
Freedom Hills Therapeutic Riding Program in Port Deposit, MD is open to all individuals who happen to have disabilities. For more information about riding lessons, volunteering or having us speak to your organization contact Renee at 410-378-3817. We also offer "riding lessons for everyone" at Rolling Hills Ranch along with four weeks of Day Camp in the Summer.