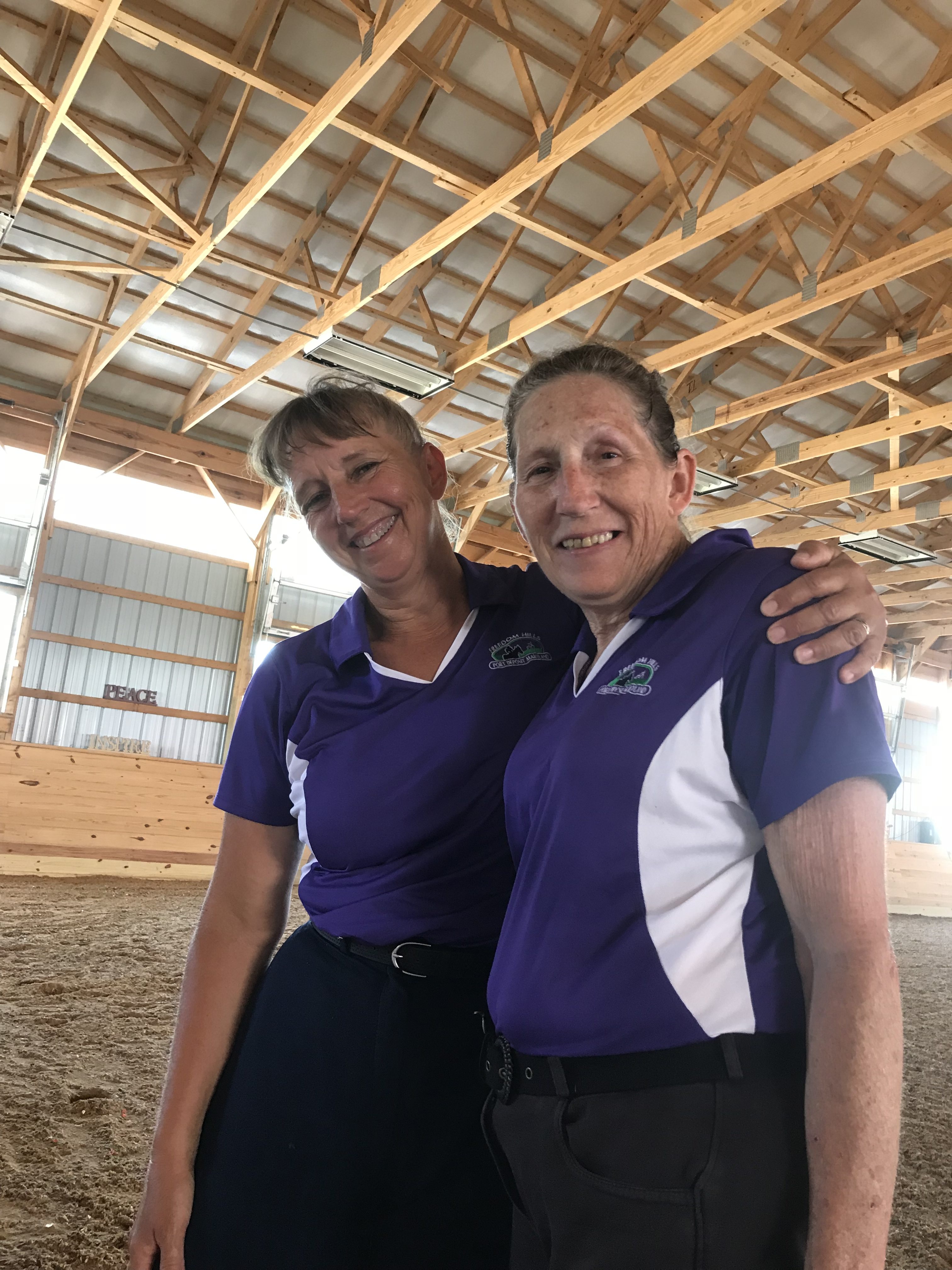 USEF Para-Equestrian Dressage Coach Pilot Program
Education broadens the mind, leading you to obtain the best for both yourself, your students and those around you.
As owner of Rolling Hills Ranch "riding lessons for everyone", a Maryland Horse Discovery Center, MD Certified Farm Based Education Center, Executive Director of Freedom Hills Therapeutic Riding Program Premier Center for PATH,, avid dressage rider, and Advanced PATH Instructor ,etc .  As soon as I heard of the USEF Para-Equestrian Dressage Coach Pilot Program I was ready to apply.  PATH Intl., in partnership with Carlisle Academy Integrative Equine Therapy & Sports and the United States Equestrian Federation (USEF), announced a scholarship opportunity funded by the VA Adaptive Sports Grant. This scholarship was available to eligible PATH Intl. Certified Therapeutic Riding Instructors and provided the opportunity for travel costs reimbursed.
The purpose of this USEF Para-Equestrian Dressage Coach Pilot Program was to increase awareness and coach education opportunities within Paralympic Equestrian Sports, aid in the development of a USEF Coach database, and enhance national coaching support for para-equestrian athletes, including para-eligible veterans.
Michel Assouline, the presenter, is the USEF Head of Para-Equestrian Coach Development & High Performance Consultant, as well as an International Dressage/Para-Dressage Trainer with more than a decade of Paralympic and FEI Dressage coaching experience. He has recently completed his tenure as head coach for the U.K Para-Dressage Team. Michel has developed the Para-Dressage Coach Curriculum as a pilot to a full Coach Certificate Program scheduled for launch in August 2018.
As a candidate I had to be a PATH Intl. Therapeutic Riding Instructor, meet the requirements of the USEF Para-Equestrian Dressage Coach Pilot Program, have an interest in working with disabled veterans, adaptive sport riders, and/or para-equestrian athletes and a letter of recommendation which I got from Phoebe Devoe as well as 20 hours of self-study during the six-week period leading up to the Symposium. The locations to choose from were
Carlisle Academy, May 25-26, Lyman, ME and Wheatland Farm July 1-2, Purcellville, VA.
They were also looking for Military Veterans to apply as demonstration riders for the coaches to practice teaching.  I recommended to Cecelia Kress, one of the Military Veterans which I coach, to apply as a demo rider.
I was thrilled to receive the email that we had both been accepted.  From what I understand there were over 50 applicants for the coaches training of which they only picked 20.
Cecelia and I arrived early Sunday morning at the beautiful Wheatland Farms.  We were very excited to be there and to start the two days of education.  We were met by Wheatlands wonderful staff as well as owners Muriel and Mark Forrest. Mark is a very famous singer who has performed all over the world including the White House.  Mark and Muriel have amazing hearts for helping people with special needs.
The symposium began with Michel Assouline presenting his program for teaching dressage.  Although the symposium was geared toward people who happen to have physical disabilities the information he presented could be used for teaching any aspects of riding to anyone.
After lunch was the Shadow Coaching.  Each rider had two coaches.  Each day one of the coaches was the lead coach and the other coach could quietly give the lead coach suggestions.  The next day they switched rolls.  It is always nice to glean ideas from other coaches.  For some reason I did not have a shadow coach so I was fortunate to teach both days.  Cecelia rode a very cute horse named Chocolate Chip. Chip is owned and evented by Anthony, Muriel and Mark's son.  Anthony is an event rider who takes lessons from Boyd Martin.  Cecelia and I had talked prior to the lesson and decided to work mainly on her position as well as lengthening and shortening the horse's stride at the walk.  Michel liked the lesson which I taught and gave me some constructive feedback.
That evening we had a lovely dinner by the pool.  We had the chance to do a lot of networking.  I enjoyed talking to different athletes and coaches from all over the United States.
The next day the times got changed to be earlier because of the nasty heat.  Cecelia was fortunate to ride second.  Do to her disability and the heat from the day before she was hurting quite a bit but she was a trooper.  She mounted up on Chocolate Chip and gave it her best.  We started out getting Chip to walk on with big steps so his back would swing more which helped to relax and release Cecelia's sore muscles.  By the middle of her 30 minute ride she was back to sitting up tall in the saddle and we were able to move on to lengthening and shortening Chips stride at the walk as well as working on being precise in steering to and from the dressage letters.
I am very honored to be a part of this pilot program who are learning to train elite para-equestrians in the art of dressage.
I look forward to future symposiums and sharing my knowledge with others.